The state of Georgia will appeal a judge's ruling earlier this week that struck down that state's amendment banning gay marriage, which was approved in November 2004 by 76% of voters. Said Governor Sonny Perdue: "I think the people spoke overwhelmingly. I think the people of Georgia knew exactly what they were voting for."

More than 8,100 same-sex couples have married in Massachusetts since it was legalized.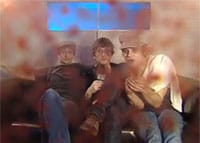 Boy George will work in an HIV hospice as his community service ordered by the court following his arrest on cocaine charges. He recently spoke to MTV, and commented on both the community service sentence ("They're not gonna make me pick up litter. They're gonna make me teach baseball in Harlem. That's a joke by the way! No, I'm gonna work in a hospice.") and ne'er do well Babyshambles singer Pete Doherty, who recently angered MTV cameramen by spraying them with a syringe full of blood: "What'd be interesting would be if he was like Mick Jagger or someone that has a history, but he's made one record. It says something about the state of our industry that we're so desperate for a rock and roll star… and we slag off Kate Moss for being a coke head and slag off Boy George for taking drugs but with Pete Doherty it's like 'Oh please be a rock and roll star!' But what has he done? The Pete Doherty thing, I just don't get it."

Ryan Smith talks to Queerty about the gay bashing incident on St. Maarten from which he is still recovering.


Transamerica's a bit late getting on the Brokeback homage bandwagon. (click for larger)

A sneak preview of rehearsals for Madonna's Confessions Tour…

DC's Mayor Anthony Williams threatened to remove Bishop Alfred A. Owens Jr. from his interfaith council if the minister did not retract statements he made on April 9th about gays. According to a recording obtained by Williams, Owens told churchgoers, "It takes a real man to confess Jesus as Lord and Savior. I'm not talking about no faggot or no sissy." Said Williams: "If you can be shocked, saddened and disappointed all at once, I really am, because I really have to condemn remarks made like that whenever they're made against any group on the basis of sexual orientation, race, class, ethnicity or anything else."