United Nations votes to block two more gay rights groups from "consultative status" at the UN following motions by Iran. This is the second time this year gay groups have been denied the status. Voting "no" both times were Cameroon, China, Iran, Ivory Coast, Pakistan, Russia, Senegal, Sudan and Zimbabwe. Voting against rejection were Chile, Colombia, France, Germany, Peru, Romania and the United States. India and Turkey abstained." After voting "no" the first time, the United States has changed its position on the issue.

Norway grants protection to gay Iranian asylum seekers.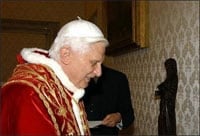 In a veiled reference to the evils of gay marriage, Pope Benedict lectured a Spanish ambassador over the weekend: "The church proclaims without reserve the primordial right to life, from conception to natural death, the right to birth, to create and live in a family, without it being substituted or confused by other forms or different institutions."

James McGreevey's Confession
: Former New Jersey Governor will appear on Oprah this fall. Admits he cruised rest stops for sex: "All I knew was that my behavior was getting crazier and crazier. With each new encounter, I was getting nearer and nearer to being caught – which surely would have generated headlines, especially after I became executive director of the state parole board. The closet starves a man, and when he gets a chance he gorges till it sickens him."

What's on Hillary's Clinton's iPod?

LOGO rejects second Provincetown reality special.

Jamaican who stabbed gay activist 77 times is sentenced to life in prison.