Joseph Gannascoli, Gay Vito from The Sopranos is being sued by the makers of workout/diet drug Stacker 2. They claim he isn't doing enough to promote the product after they paid him endorsement fees of $316,000. Claims Gannascoli: "They didn't like I was doing the gay thing."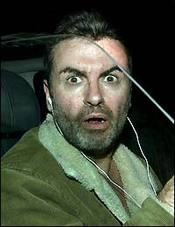 George Michael says the press is wrong when they claim he'd rather be straight: "The press give the impression that I was far happier when I stuck with the ladies, but I am far happier now." The singer also says that because he doesn't want to do promotion for his records, he's happy about the negative press he's been getting for his falling-asleep-behind-the-wheel incidents: "In all honesty it does me good. I take crap for a couple of weeks but it promotes me and my music. I hate to say it but it's true."

A 48-year-old Australian gay rapist "Grandpa" deliberately tried to infect partners with HIV: "He met victims including one who he allegedly drugged and raped, on the internet and persuaded them into unprotected sex, telling them he was HIV negative, the jury heard."

Oprah on her relationship with Gayle King: "We are not gay."


Get it while it's hot: Paris Hilton single leaks.

Council of Europe official: authorities were justified in breaking up Moscow gay rights march.

Oxford Friend Lesbian and Gay Helpline is the first gay organization ever to receive the prestigious Queen's Award for Voluntary Service. The hotline provides confidential counseling and advice. Treasurer: "The Queen's Awards were only started in 2002, as part of the Jubilee celebrations, so to become the first lesbian and gay group to be recognised is a huge privilege."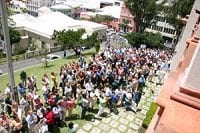 Hundreds demonstrate on the island of Bermuda after MPs fail to discuss proposed legislation that would have banned discrimination based on sexual orientation: "I'm not gay, I'm here to support friends and family. I'm really saddened that there are not more Bermudians here. If you don't start standing up for other people on an issue, what happens when it's time for someone to speak up on an issue that's nearer to your heart? You've got to support people on any human rights issue. Bermudians are scared to come out and show their faces."

Page Six's Richard Johnson in jail on DUI charges.