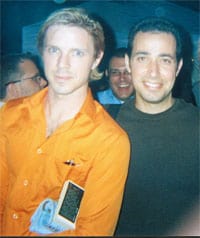 Towleroad reader and author Salvatore Sapienza writes in about his visit to the Saints and Sinners Literary Festival in New Orleans where he saw Michael Cunningham and Jake Shears (pictured here with Salvatore) of Scissor Sisters appear on a panel together to discuss how Cunningham's novel Specimen Days influenced a song on the Scissors' upcoming album.
Full details are on Salvatore's Amazon Author's Blog
and his MySpace page, but here are a few nuggets:
The new Scissor Sisters album is out in September with the Cunningham inspired track "In the Machine". The working title for the new CD is Ta Da.
According to Salvatore, "Shears told the story of how he, as a young freelance writer for Genre magazine, tried to get an interview with Cunningham right when The Hours had come out. After 'stalking' him at a bar in NYC, Jake was able to get Cunningham's phone number. Cunningham never returned his call. Fast forward years later when Scissor Sisters are now famous, and the two meet again at a function. Cunningham tells Shears what a fan he is of the CD and how he listened to it while writing Specimen Days. Shears reminds Cunningham that he was the young 'stalker' whose phone call he never returned! The two have since struck up a friendship. Cunningham and his boyfriend have had Jake and his boyfriend, Chris, over for dinner."
Funny, I remember Shears' story. I was the editor at Genre and Shears (who then went by his given name) was my "editor at large." He was my most dependable freelancer and the day I stopped regretting giving him permission to quit writing for me to fully pursue his "band" was the day I picked up their excellent debut CD. Jason Jake deserves every bit of success he has achieved. A true talent.
Thanks for the update and photo, Salvatore.