Bush to reiterate support for the Federal Marriage Amendment on Monday. Spokesman: "The president firmly believes that marriage is an enduring and sacred institution between men and women and has supported measures to protect the sanctity of marriage." The Amendment stands little chance of passing, but he'll take any opportunity to kiss his conservative base's ass at a time when his poll numbers are crap and the Iraq war continues to reveal atrocities committed by American troops.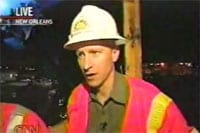 Construction fetishists unite: More Anderson Cooper stalking. "We're gonna get into what's called the Mancage."

Human Rights Watch calls on Russia to investigate violent actions against peaceful gay rights activists by nationalists and Orthodox Christians last weekend: "At both sites police at first seemed to allow the skinheads and others free rein to assault lesbians and gays. When police finally intervened, they forced the two groups closer together, aggravating the violence. They failed totally to protect people peacefully trying to exercise their rights."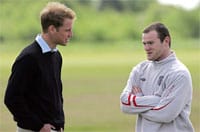 Prince William, honorary President of the Football Association, makes a surprise pre-World Cup to the English football team: "I wanted to send a good luck message to them direct. I wished them luck and asked them to bring the World Cup home for us. They said they would. I am sure they will do very well."

CNN struggles to shed light on gays in the Middle East: "Most gays and lesbians in the region would only agree to speak to us anonymously. It took months to find willing participants. Often, we would meet in hotel lobbies and film interviews in silhouette, hiding identities and distorting voices."


Spidey's adventures in spandex.

Canada: Toronto schools ask teachers about their sexual orientation, and British Columbia government agrees to add gay and lesbian issues to their curriculum: "I think it shows how we're leading in a lot of areas," Attorney-General Wally Oppal said of the plan. "The idea is to teach the students more about diversity. By that I mean ethnicity, racism, gender issues, issues relating to sexual orientation."