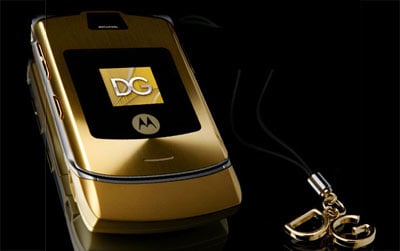 Welcome to the weekend with our weekly tech report by Daniel Williford.
Motorola will release a limited-edition, gold-plated Dolce and Gabanna RAZR Vi3. When it isn't oiled-up footballers in underwear, it's unnecessarily-luxurious cell phone fashion. I love you, D&G! [via gizmodo]
"Hi Mike, it's Steven. Great, now you've totally got Shake Your Bon-Bon in my head again. I hate you. Call me." Cingular launched Cingularanswertones.com, where customers can purchase ringbacks, tones that play for a caller when they are calling your cell (versus a ringtone, which you hear when you receive a call). While neither ringbacks nor ringtones have the popularity in the US that they do in Europe and Asia, Cingular is attempting to push consumers by unleashing a catalog of popular songs for purchase as ringbacks at 1.99 each.
MP3buzz.net details a roundup of information and rumors surrounding the 6th generation iPod. Recent photos and video suggest that the device will have a wide touch screen display, fully replacing the current touch-wheel with an on-screen version that disappears when not in use. The launch appears to have been delayed, and is expected to arrive by the end of the year.
Did we call it, or what? Microsoft announced that it will team up with eight technology companies to introduce a major iPod competitor. The companies will develop a portable media player and Microsoft will develop the software to integrate it into its Windows environment. No word yet on when the Anti-iPod Coalition will first strike. [via digg]
Lounging in the grass is sexy and all, but sometimes you need a bit more support than the hard ground. Check out this clever Grass Armchair by Nucleo. Fill the cardboard form with dirt and grass seed, and grow your own lawn-integrated lounge. [via uncrate]
Scientists are shocked to learn that the North Pole once had a tropical climate."Not only did the Arctic heat up to an extent that is inexplicable by current climate models, say the researchers, it also seems that the North Pole began to cool at about the same time as the Antarctic. This timing suggests that climate was being driven by a global factor, such as atmospheric levels of greenhouse gases, rather than something more local, such as geological upheaval." [Pictured: Artists rendition of prehistoric North Pole gay resort.]
To help us prevent yet another global warming catastrophe, Google has released a specialized search/mapping feature to help travelers locate Eco-friendly vacation spots. "Our map and video tours of five top U.S. vacation spots will introduce you to a bounty of environmentally friendly activities, attractions, and amenities."
Over a year ago, Ask.com purchased Bloglines, one of the first sites to track blog popularity and allow users to read blog feeds for free. Now Ask.com has integrated Bloglines powerful system into its search, introducing a new blog search that is based on popularity and relevance. They're one of the last search engines to offer a blog search, but they offer a search based on data that no other company has access to. [via zdnet.com]
You can visit Daniel Williford online at his blog, Until Today, and you can read pasts editions of Towletech online here!