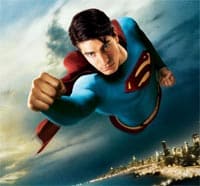 More specifically, can beefcake that appeals to gay men drive straight male audiences away from a movie? That's the question the L.A. Times attempts to tackle in a piece running today.
An informal poll of six veteran Hollywood marketing executives at rival studios revealed sharply divided opinions over how — or even if — "Superman's" gay attention would affect the film. Two of the executives said the focus could actually expand the film's audience, much as gay moviegoers have responded to the "X-Men" superhero series, which has been praised for its metaphorical plots about acceptance. The first two "X-Men" movies were directed by Bryan Singer, the openly gay filmmaker who also made "Superman Returns." Singer did not respond to an interview request.

But four of the movie marketing executives, all of whom declined to speak on the record, said gay "Superman Returns" interest presented two potential box-office problems. First, teenage moviegoers, especially those in conservative states, might be put off by a movie carrying a gay vibe; among some teens, these executives agreed, saying something "is gay" is still the ultimate put-down. Second, the attention threatens to undermine the film's status as a hard-edged action movie, making it feel softer, more romantic, and thus less interesting to young ticket buyers who crave pyrotechnics.
The other major question is, is it a good movie in the first place? How many potential straight ticketbuyers place whether or not the movie has a gay following (ie their own homophobia) as a higher priority than the reviews they've read? Not many, I'd guess. But it's certainly an interesting question. Could the the alleged homophobia of Academy members that was the scapegoat for Brokeback Mountain's loss to Crash at the Oscars play itself out in a broader sense with the American public, even when Superman is not a specifically gay character?
Like the Oscar results, one could spend endless amounts of time debating the equation without ever finding the right path to the answer.
How Will it Fly? [la times]