UK tabloid News of the World caught George Michael allegedly fooling around with a 58-year-old unemployed van driver from Brighton in some bushes in a cruisy area of Hampstead Heath outside of London. It's 1998 (the year George was caught flashing a policeman in a Beverly Hills park) all over again, but this time the paparazzi and not the police claim to have evidence of Michael's cottaging habits.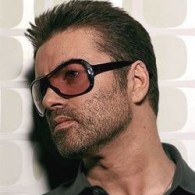 When confronted, the tabloid claims that George said, "I don't believe it! F*** off! If you put those pictures in the paper I'll sue! Are you gay? No? Then f*** off! This is my culture! I'm not doing anything illegal. The police don't even come up here any more. I'm a free man, I can do whatever I want. I'm not harming anyone." Obviously, the tabloid went ahead and published the photos.
The tabloid allegedly tracked Norman Kirtland, the man they claim was involved with Michael at the Heath, to Kirtland's apartment in Brighton. Kirtland seemed unfazed that he too had been caught in the bushes. He was super chatty about the adventure:
"I don't even like George Michael. And I didn't recognise him immediately. He sort of came up and got close. He looked kind of brown so I said to him, 'You're not totally English, are you?' I told him I'd come all the way up from Brighton and he said, 'What? Isn't Brighton good enough for this sort of thing?' I told him it's highly dangerous at 2am. You'd get your throat cut. He told me I could contact him on the Gaydar website and we just started kissing. He did it very well. That was one of his major points. Then it was fondling and mutual pleasuring. It wasn't full sex but it was fantastic…There's a secret that I have which no one knows about. It's a personal thing. Most people pull away from it. But George actually seemed to respond. When we'd finished he said, 'I've got to go. I've got to go somewhere and chill out.' And that was that. OK, I admit I was there for sex. But I'm astonished a man as famous as George should even think about doing it. It's potentially so dangerous."
George Michael can't seem to catch a break from the relentless British paparazzi who recently labeled him a wasted stoner. Said Michael of the tabloid stories, "It's strange to look at this parallel life, this Fleet Street life."
His Fleet Street life includes two other incidents well-documented by the tabs; one in which Michael was allegedly slumped at the wheel of his drug-filled car, and another in which Michael slept at the wheel wearing an iPod, woke up, and drove into a street marker.
Michael has said that the tabloid attention is the result of Elton John's comments that George was in a strange place and needed to get out more.
I'm sure this isn't what Elton was suggesting. Calling the News of the World report "totally built," Michael's long-term partner Kenny Goss told a group of press gathered around their home in Highgate: "George is not going to say anything today. This is behind us. That is everything we are going to say on the subject. We are getting on with the rest of our lives."
Maybe now would be a good time to put out that unreleased remix of "Outside".
George's Sex Shame [news of the world]
Slideshow
Previously
George Michael: Dazed and Accused in London [tr]
George Michael: Wake Him Up Before He Go-Goes [tr]
George Michael's Former Friend Talks to the Tabs [tr]
George Michael: It's Elton's Fault [tr]