Infamous, the second Truman Capote biopic in as many years, failed to scrounge up much interest at the box office in its debut weekend, despite extremely positive reviews. It made $435,000 at 179 locations. Compare this with Helen Mirren's The Queen which made $1 million at just 46 locations. I guess the bigger queen won out in this case.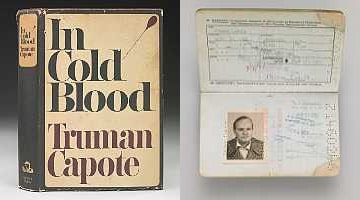 Truman Capote items from the collection of Joanne Carson (wife of the late Johnny) will go up for auction on November 9th at Bonhams New York and include the tuxedo he wore to the legendary Black & White Ball at New York's Plaza Hotel in 1966, a passport, a pair of monogrammed slippers, the writer's ice skates, and a diamond, emerald, eighteen karat gold and platinum ring he gave to Carson as a birthday gift in 1972.
According to ET, Capote was a friend of Johnny and Joanne Carson for 18 years and met at a book party for In Cold Blood, the writing of which is dramatized in 2005's Capote and this year's Infamous:
"After the Carsons divorced, Capote was a frequent guest at Joanne's L.A. home. Eventually he moved in, and in 1984 he died there. Joanne eulogized him at his funeral, and he left her a treasure trove of memorabilia, which she will auction off. All proceeds will go towards Joanne's dream of creating a hospice for ailing animals. The auction will also feature Capote's last work, a 17-page short story, handwritten at Joanne's home."
This isn't the first auction of old Truman Capote items. In 2004, Sotheby's auctioned off items which were remnants from a residence Capote had in Brooklyn Heights, NY. Those items included a first novel, Summer's Crossing, which was published by Random House in 2005.
More recently, while not a possession of Capote's, the Clutter farmhouse where the 1959 murders which inspired In Cold Blood took place, was recently put up for sale in Holcomb, Kansas.
You may have missed…
Truman Capote's Past Up for Auction [tr]
Site of In Cold Blood Murders Up for Sale [tr]