Apple: Small number of iPods shipped with Windows virus; reports say two iPhones planned for 2007.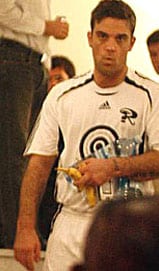 Robbie Williams gets his kit on in Rio.

Iceland to start killing whales again, defying 20-year moratorium.

Spreading gay visibility, Reichen cameo-ed yesterday on Days of Our Lives. Also, the unambiguously gay duo recently found their way through the paparazzi at the Justin Timberlake concert.

The corruption chronicles: Ken Mehlman still hasn't come clean about his relationship with Jack Abramoff.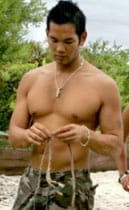 AfterElton talks to friends and family of gay Survivor: Cook Islands contestant Brad Virata. Brother: "Filipino culture in the Philippines is not as accepting [of homosexuality] as the Asian community is here in the States. There's a very strict Catholic background over in the Philippines. Here in the States … I think it's a lot more accepting. In general, we really don't care. There's never been any embarrassment at all or anything like that. My brother's personality is that he doesn't really give a rat's ass about what other people think about him. That's one of the beautiful things about my brother…My brother's more of a Will gay than a Jack gay [from Will and Grace]. It's often hard for people to even figure out that he's a gay man because he can adapt to anything. I think it was a good move on his part to try and get an alliance with the guys. It could help him out later down the line."

The Palm restaurant celebrates gay Republican hypocrites.