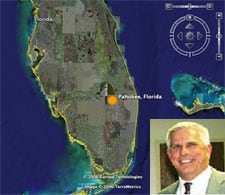 J.P. Sasser has been mayor of the small town of Pahokee, Florida for three terms. However, last week was the first time he has spoken about his sexuality publicly, according to an article in South Florida's Sun-Sentinel.
Sasser, who was born and raised in Pahokee, has been with his partner for 15 years, says he's a mayor but not an activist:
"I am not a gay mayor. I am a mayor who is gay. And it's nobody's business. And I don't go around [proclaiming], 'This is who I am.' I'm not going to deny it, but it doesn't define me. I'm so much more than that. If I am somewhere and I hear someone say a negative remark or go on a little tirade, then I will identify myself. Like if I were an African-American faced with the n-word or a Jewish person faced with Mel Gibson. I have more pressing issues. I have people who have to choose between eating or taking their medicine."
Said one frequent visitor to Pahokee: "I can guarantee you the people who voted for him knew that he's gay. I don't hear, 'J.P. is the gay mayor.' I hear, 'J.P. is the best mayor Pahokee's ever had,' even by some of his detractors."
While it's not clear from the article what caused Sasser to speak out (or that he's necessarily happy to do so), it wouldn't surprise me if the Foley scandal is stirring up lots of discussions about sexuality in the state at all levels of government.
For mayor, gay isn't an issue [sun-sentinel]