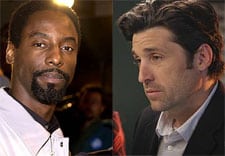 An on-set confrontation between Grey's Anatomy co-stars Isaiah Washington and Patrick Dempsey which resulted in Washington grabbing Dempsey by the throat and shoving him was kicked up a notch this morning when the National Enquirer (the tabloid that broke news of the fight) revealed that Washington had used a gay slur during the confrontation:
The melee has set off World War III on the show and may cost Isaiah his job," an insider told The ENQUIRER. "The cast is divided over the shameful event."

As The ENQUIRER exclusively revealed last week, Patrick and Isaiah clashed over cast members being late to the set, right before shooting a scene at Prospect Studios in Los Angeles.

A heated discussion quickly escalated to violence when Isaiah snapped, revealed an eyewitness. At one point, Isaiah yelled, "I'm not your little faggot like (name deleted)," according to the source. Those who heard him were stunned.
The tabloid, however, refuses to identify who the gay slur was directed at, citing its 'extreme nature', however, Washington did refer to T.R. Knight as a "bitch" in earlier reports…
Now with all the McDreaminess and McSteaminess on the Grey's Anatomy set, there's bound to be some alpha male-style jockeying for position between the male co-stars, but these aren't the kind of blows one would want it to come to. More to come as we hear it, and if anyone has heard it, please send us an email…
You may have missed…
The Men of Grey's Anatomy [tr]
McSteamy Grey's Anatomy Preview: Eric Dane [tr]