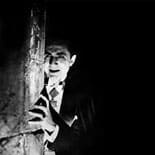 Two physicists want to remind you: Dracula isn't real. Zombies don't actually exist.
Do it like porn stars: Sxcheck, a new web-based service that lets users get tested for Sexually Transmitted Infections online, is a collaboration between Stanford grad Doug Wightman and the adult industry's primary health care foundation. The porn industry's sister service, AIMcheck, emails results to producers prior to filming. Similarly, your results can be accessed online and sent digitally to a partner before hooking up. Said Wightman: "Rather than people acting reactively toward testing, it now becomes preventative."

FireFox 2 has been released! Although the popular browser, which features a re-jiggered interface, an updated tabbed navigation system, and an automatic spell-check feature, "breaks little genuinely new ground" according to Technology Review, "[its] continued focus on simplicity and extensibility makes Firefox 2.0 an extremely solid product, with a few flashes of brilliance."
Daily Kos contributer Chris Bowers has staged a campaign to "use" Google to spread the truth about unscrupulous Republican candidates. By having as many people as possible link a Republican candidate's name to a legitimate news article that exposes something negative about that candidate, Bowers hopes that when elections come, Googling the name will bring up the news article at the top of the search results. The technique is called "Google Bombing," and Bowers says he got the idea from a similar tactic that right-wing bloggers used on John Kerry during the 2004 elections. "They opened the Pandora's box on this one, and they can ram their criticisms for me taking it up a notch upward and to the left."

Tessa
Jowell, Britain's Secretary of State for Culture Media and Sport, criticized the US Government's ban of online gambling, saying that
instead regulation is the way to go. "America should have learnt the lessons of Prohibition."
The domain name Cameras.com sold for $1.5 million today at a live auction held by Moniker.com. Domain names, which are the "addresses" of web sites, typically sell for $10-$15, but desirable names that have already been registered can be re-sold for thousands or even millions of dollars. While this isn't the most that's been paid just for a domain name, it's no small change.

VOX is officially launched. The new free service claims to be blogging/social networking "for the rest of us." Seeking to be a MySpace for a slightly older demographic who has been late to the blog-networking game, VOX is simple to use, clean, offers lots of privacy settings, and features a ton of sophisticated "themes".
Daniel Williford is our TowleTech correspondent.

You can visit him at his blog, Until Today…