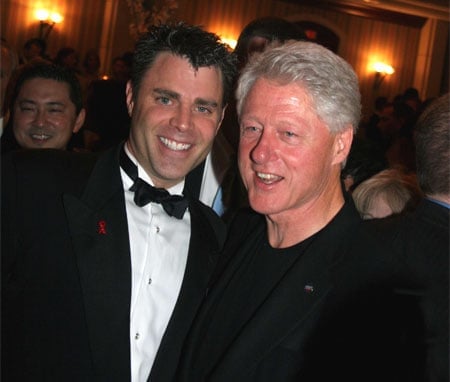 Amazing Race winner and friend of Towleroad Chip Arndt sent us a photo from last weekend's National Gay and Lesbian Task Force fundraiser in Miami honoring NAACP Chair Julian Bond, which raised over $270,000. Bill Clinton made a surprise appearance at the benefit after hosts, one of whom was Arndt, realized the former Pres was in the area making stops at rallies for Gubernatorial candidate Jim Davis and Lt. Governor candidate Darryl Jones.
The dinner was organized by over 100 local volunteers, along with executive director Matt Foreman, and DNC Treasurer Andrew Tobias.
Clinton arrived 15 minutes before the dinner portion of the event was to begin and mingled for 45 minutes, long enough to greet plenty of the benefit's attendees as well as his friend Julian Bond.
Since winning the Amazing Race with his then partner Reichen Lehmkuhl, Arndt has become active in South Florida politics where he continues his work in a variety LGBT causes. He is president of the Freedom Democrats, the Miami-Dade LGBT Democratic Caucus.