The confessions and statements of Michael Sandy's killers were revealed in papers released to the public yesterday. In the papers, Ilya Shurov and John Fox talked of how they planned the robbery and described the scene beside the Belt Parkway which resulted in Sandy being forced into traffic. Sandy was hit by a car which fled the scene and spent days in a coma before his family took him off a respirator on his 29th birthday.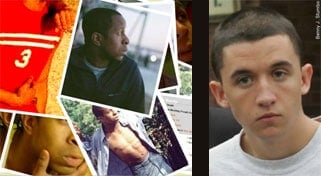 Shurov described how his friends, Anthony Fortunato, 20, and Gary Timmins, 16, plotted the robbery on October 8: "They told me they had been on a gay chat room and that it was the easiest way to rob somebody."
Shurov then described the scene beside the Belt Parkway in Brooklyn: "Me, Anthony and Gary followed the guy and he ran onto the highway. I saw the guy get hit by a car. As [John] walked with the guy to the beach, the three of us rushed up to him. John tried to hit the guy. He ran to his car. The guy couldn't close the car door. He ran into the lot. John swung at him."
Sandy was then forced into traffic by Shurov, where he was struck.
Later, the four men gathered at a house, where the killers napped, said 19-year-old John Fox:
"Me and Anthony got to the house first. Than [sic] Alex came in after. We layed [sic] on the bed – couch and fell asleep. He said he thought he killed someone before he fell asleep."
Previously
Three Indicted on Hate Crime Charges in Michael Sandy Murder [tr]
Two Indicted for Murder as Hate Crime in Michael Sandy Killing [tr]
Michael Sandy Attacker 'Sorry', Cops Examine Web Gay Bash Trend [tr]
NYC Hate Crime Victim Michael Sandy Dies [tr]
Michael Sandy Clings to Life; Men Charged with Hate Crimes [tr]
Four Arrested: Attack on Michael Sandy was Internet Set-up [tr]
Gay New York Man Critically Injured After Attack, Hit-and-Run [tr]