Montreal's Outgames deep in the red. $3.5 million owed to the city of Montreal.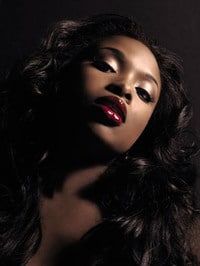 Jennifer Hudson glams it up in Dreamgirls.

Arizona recently became the first state to vote down a bigoted amendment banning gay marriage. Pam over at Pam's House Blend has a demographic breakdown of how the voting went. According to exit polls, moderates, college grads, white men, white women, voters earning over $50K, younger voters, and city dwellers voted against it. Hispanics were split. And the majority of blacks, seniors, conservative Republicans, folks in rural areas voted for it.

Six airlines — Air France, Continental, Delta, Emirates, KLM and United to allow passengers to charge iPods in flight and watch iPod content on seat back displays.

Drag queen stalking Michael Jackson: "This person is plaguing his life and has sent some seriously dodgy letters. They are from a man who works as a drag queen in the seedy Kings Cross area of Sydney, Australia. The content is eerie to say the least and this person is seemingly obsessed with Michael."

Page Six hears that Tom Ford told execs at Estee Lauder that he wanted his new Black Orchid fragrance to smell like a man's crotch…

Gays.com domain name sells for $500K.

Study: Protein found in milk may hinder HIV.


Ozzy from Survivor: Cook Islands has a porn (straight porn, that is…) past. OMG Blog has the NSFW goods.

It's not a nice day for a wax wedding. After complaints from Brad Pitt, Madame Tussaud's has decided to hold off on holding a wedding for its wax figures of Angelina Jolie and Brad Pitt. Said Pitt's publicist: "I personally found it a little odd that they were re-creating a wedding that never really happened. As Brad's representative, I found it disturbing." Besides, Pitt has said, "Angie and I will consider tying the knot when everyone else in the country who wants to be married is legally able."