Incoming RNC Chair Mel Martinez, who has been vocal in his opposition to gay marriage and also attacked one of his opponents for supporting hate crimes legislation based on sexual orientation, had no problem hiring (at least two) gay staffers.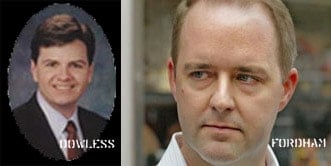 John Dowless, the former executive director of the Christian Coalition of Florida, worked for Martinez as a political consultant and arranged lunches with conservative religious leaders for Martinez during his 2004 Senate race.
A top staffer on that Senate campaign was Kirk Fordham, a former chief of staff to sex predator Mark Foley and to Republican Congressman Tom Reynolds, from whose staff he most recently resigned in the wake of the Foley scandal.
As John at AmericaBlog notes: "Of course, in the end, the joke may be on the religious right base of the Republican party. Martinez didn't just have the openly-gay Kirk Fordham as a top aide on his Senate campaign, he also had a second top aide who was gay. Mr. Martinez may play a homophobe on TV, but he doesn't have a problem having key advisers who are openly gay. Which is great. But it also means that Martinez's personal commitment to the anti-gay agenda is more than just a little suspect."