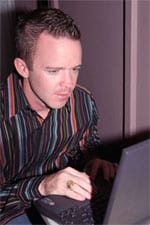 In his first public interview since the Mark Foley scandal broke, blogger and former HRC employee Lane Hudson tells the Washington Blade that though he knew his efforts to expose the Congressman's interaction with pages might have political implications, they were in no way meant as a sort of "October surprise" meant to influence the November elections.
Said Hudson: "[Such accusations] only [serve] to distract from the real issue here. And the real issue is that there was a predator in Congress who, over the course of his 12 years of service, was continuously seeking out pages with unethical, immoral and inappropriate intentions. And now he's not there. And anyone who wants to say anything different is endorsing the idea that these activities should have continued."
Hudson expresses his frustration over the willful ignorance by certain members of Congress of Foley's inappropriate advances. In fact, Hudson himself had contact with Foley as an intern at the White House under Bill Clinton in 1995. Soon after meeting Foley at a bar with other interns, the congressman made email contact. Hudson says "it was nothing explicit, nothing very salacious" though he admits to being somewhat naive at the time.
Hudson says he's not surprised he was fired by HRC and doesn't hold it against them as he understands what the linking of his blog to HRC computers meant to the organization. He also insists his efforts were not motivated by partisan politics but by a desire to expose the corruption he witnessed and heard about from others: "It disappointed me hugely that the gilded halls of Congress, one of the longest, continuously operating governments in the world, allows stuff like this to happen. And I wanted to do something about it."
Gay blogger sought to protect pages [washington blade]