60 Minutes newsman Ed Bradley has died at 65 of Leukemia.

It's dune shacks vs. McMansions vs. the National Seashore as mega-wealthy housing development spreads to outer cape towns of Provincetown, Wellfleet, Truro: "If you remember what Nantucket used to be like, well, we haven't gotten the Gulfstreams at our airport yet, but we're afraid they could be coming."

Scientists discover origin of third of three strains of HIV known to infect humans: "Of the three strains of HIV known to infect humans, we know that two – the one causing the global AIDS epidemic and another that has infected a small number of people in Cameroon – came from a chimpanzee virus called SIV. The source of the third strain, which infects people in western central Africa, was a mystery. Now we know it came from gorillas."

Deal or No Deal? Billionaires, including David Geffen who has been furiously selling off his art collection in order to make the purchase, are jockeying for the opportunity to buy the L.A. Times. Geffen is already telling the world what he'll do when he gets his hands on it.

All the scoop on Britney's emancipation celebration.

House Speaker Salvatore F. DiMasi and opponents of proposed Massachusetts gay marriage ban are mobilizing forces to kill it: "Legislative sources said that DiMasi is pushing to get enough votes to force today's convention to recess without taking final action on the amendment, a move that, if successful, would kill the proposal and prevent it from appearing on the 2008 state ballot."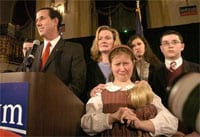 Santorum family values: Uncle Fester Sold Separately…

Sigma Alpha Epsilon fraternity in Florida shut after possible sexual assault hazing.

Meryl Streep's wise decisions via Page Six: "Donny Osmond brought down the house when he coaxed Nathan Lane onstage and sang him a love song from 'Beauty and the Beast' at the Christopher Reeve Foundation fund-raiser at the Marriott Marquis the other night. Lane, playing Belle to Osmond's Beast, deadpanned, 'My God, I thought you were Mormon!' Then, as Meryl Streep, Barbara Walters, Joan Collins and Miss USA Tara Conner watched, Osmond pulled Lane onto his knee for a mock marriage proposal. Streep, who'd earlier been asked to play Belle, told the crowd she'd made many important decisions in her career, and 'not being part of that skit was one of them.'"