Well, you can't fault him for keeping his pledges. Mitt Romney did what he said he'd do at his wingnut rally a little more than a week ago, and petitioned the Massachusetts Supreme Judicial Court to force the proposed constitutional amendment that would ban gay marriage onto the ballot should the legislature fail to vote on it when the constitutional convention reconvenes on January 2. It's widely expected that they won't.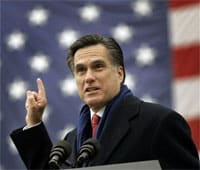 Massachusetts Gay and Lesbian Political Caucus co-chair Arline Isaacson called Romney out on the move: "Romney is pursuing this aggressively because he seeks to keep his name front and center at the national level as an anti-gay zealot in order to court conservative voters around the country. This is a badge of honor for him."
Other votes aside from gay marriage, such as making health care a constitutional right, were postponed by the legislature as well. Romney felt no need to make a plea about those measures.
Same-sex marriage has been legal in Massachusetts for two and a half years.