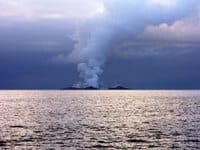 This is a very cool story. A yacht crew basically witnessing the birth of a volcanic island near Tonga. First their ship ran into a river of floating stone on the open sea:
"We sailed into a vast, many miles wide, belt of densely packed pumice. We were going by motor due to lack of wind and within seconds 'Maiken' slowed down from seven to one knot. We were so fascinated and busy taking pictures that we plowed a couple of hundred meters into this surreal floating stone field before we realized that we had to turn back."
Finally, they came upon the source of the pumice:
"One mile in diameter and with four peaks and a central crater smoking with steam and once in a while an outburst high in the sky with lava and ashes. I think we're the first ones out here."
Now that's something you don't see every day. It's chronicled on the yacht's blog.
(thanks eric)