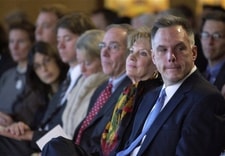 Tribute was paid to former Massachusetts congressman Gerry Studds at a memorial service in Boston attended by 300 people including his longtime partner Dean Hara (right) and his colleagues Barney Frank and Ted Kennedy.
Studds, who became the first openly gay member of congress after it was discovered that he was having a consensual relationship with a 17-year-old page, died on October 14th after being hospitalized for a blood clot.
Barney Frank, who came out four years after Studds, made note of the page incident in a speech at the memorial. Said Frank: "The important thing about what Gerry did was the reaction to it. And the reaction to it was that there was no reaction. [Gerry] helped Americans understand that they really aren't homophobic, they just thought they were supposed to be."
While in Congress, Studds fought for gay rights, marriage, and AIDS issues as well as marine protection environmental programs. His post-congressional work as a lobbyist for the fishing industry did not go unnoticed. The Stellwagen Bank National Marine Sanctuary, located at the mouth of Massachusetts Bay, was named for Studds when he retired from Congress to recognize the work he had done on behalf of marine issues.
Ted Kennedy noted this in his eulogy: "His love for the Cape was obvious to all of us and constantly inspiring. One of his finest achievements was persuading Congress to start paying close attention to the health of our oceans."
The occasion of Studds' death was one of the first times that a governement official's spouse was noted in his obituary as "husband" rather than partner, boyfriend, longtime companion, or friend. However, it also drew attention to the inequities gay people face concerning pension benefits, as Hara, partnered with Studds for 15 years, was unable to receive the federal pension benefits offered to heterosexual spouses of deceased government officials.
You may have missed…
Former Massachusetts Rep. Gerry Studds Dies at 69; Was First Openly Gay Person Elected to Congress [tr]
Gerry Studds' Husband Shut Out of Federal Pension Benefits [tr]