2006 is Britain's warmest year since records began: "All of the 10 warmest years in Britain have occurred in the past 18 years, except the fourth hottest, when in 1949 the year's mean temperature reached 10.62C."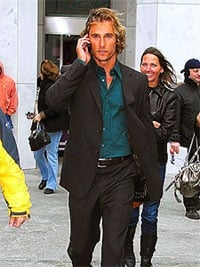 Matthew McConaughey appears in public wearing shirt.

Circumcision cuts risk of infection by HIV in half: "Previous research has suggested that circumcision is beneficial, but the new trial is 'definitive,' according to Dr. Anthony S. Fauci, director of the National Institute of Allergy and Infectious Diseases, which cosponsored the study with the Canadian Institutes of Health Research. 'It's not a magic bullet,' said Dr. Kevin De Cock, director of the World Health Organization's department of HIV/AIDS, but it has the potential to prevent 'many hundreds of thousands and perhaps millions of infections over coming years.'"

David Geffen offers $2 billion for the L.A. Times. Paper continues to seek offers…

Acquitted Huntsville, Alabama man speaks out about sex sting in public park: "For months I lived a nightmare that I hoped to wake up from, but I didn't wake up from it. I did not and have not ever gone there for the purpose for sexual contact," he said. "My family and those people who know me know that I could not do and did not do those things I was charged with. People are going to believe what they want to believe. There is no anger in my heart for anyone. There is forgiveness in my heart, okay. I think he was wrong. I know he was wrong. And a jury of 12 people decided he was wrong."

Spoof video superintendent Richard Mitchell, who this fall in an extraordinary lapse of judgment posted a remixed video of rookie teacher interviews on a school district website, has filed a sexual orientation discrimination complaint with Chicago's Cook County, claiming he wasn't fired because of the video, but because a school board member encouraged others to conspire against him because he's gay.

STUDY: Gay marriage would mean an additional $100 million in yearly revenue for businesses in New Jersey.

Read My Mind: Pet Shop Boy fan Brandon Flowers sends next single to the duo for remix.

A Ford Mustang…station wagon?