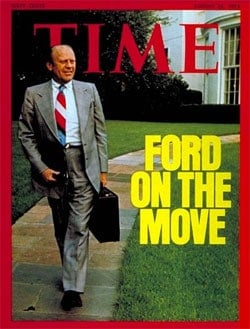 Gerald Ford, the 38th president of the United States and the only president to have never been elected, has died at 93. He will most likely be remembered for reuniting a country ravaged by the Watergate scandal and the Vietnam war.
Sworn in just minutes after Richard Nixon was airlifted into exile, Ford told the country, "My fellow Americans, our long national nightmare is over. Our Constitution works. Our great republic is a government of laws and not of men. Here the people rule."
Ford's later pardon of Nixon is widely thought to have cost him the 1976 election to Jimmy Carter.
Said Ford: "The political lesson of Watergate is this: Never again must America allow an arrogant, elite guard of political adolescents to by-pass the regular party organization and dictate the terms of a national election."
Ford was also the first unelected vice president, chosen by the man he would replace after Spiro Agnew left office in disgrace over tax evasion and money laundering.
Allow me to digress for a moment, for although this might be a footnote in his general biography, it should certainly be of interest to readers here.
Ford might have died on September 22, 1975, when an attempt was made on his life by Sara Jane Moore outside the St. Francis Hotel in San Francisco, less than three weeks after a similar assassination attempt was made by Lynette "Squeaky" Fromme in Sacramento.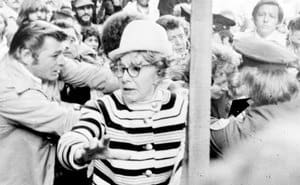 This time Ford's life was saved by Oliver Sipple (see photo), a former Marine who lunged at Moore, deflecting the intended bullet. Sipple was instantly commended but the incident inspired curiosity about the former soldier and it was revealed by Harvey Milk that he was a gay man, a fact that was not known by either his employer or his family. The resulting attention (Harvey Milk, who wanted to show that gay men were not all child molesters and perverts, anointed him a gay hero, inspiring a widely-syndicated write-up from noted columnist Herb Caen) freaked his mother enough to cause her to disown him. At the time Sipple pleaded with reporters: "I want you to know that my mother told me today she can't walk out of her front door because of the press stories…My sexual orientation has nothing to do with saving the President's life."
Sipple battled the "outing" in court for the next nine years, a battle that was never won. It may have cost the man his sanity. Sipple was found in his San Francisco apartment in February 1989 next to a bottle of booze. Alcoholic and obese, he had been dead for two weeks.
Gerald Ford did not attend the funeral and instead sent family and friends a letter of condolence. He was criticized by some who said that were Sipple heterosexual he would have been treated differently. Ford told journalist Deb Price in a 2001 interview: "As far as I was concerned, I had done the right thing and the matter was ended. I didn't learn until sometime later — I can't remember when — he was gay. I don't know where anyone got the crazy idea I was prejudiced and wanted to exclude gays."
ADDENDUM: A reader sent in this snippet, clipped from another Deb Price column on Ford, written five years ago:
"Former President Gerald Ford believes the federal government should treat gay couples the same as married couples, including providing equal Social Security and tax benefits. Ford's views, expressed in an exclusive telephone interview, make him the highest-ranking Republican ever to endorse equal treatment for gay couples. 'I think they ought to be treated equally. Period, Ford declared. Asked specifically whether gay couples should get the same Social Security, tax
and other federal benefits as married couples, he replied, I don't see why they shouldn't. I think that's a proper goal.' Now 88, Ford was a longtime Michigan congressman and Republican leader of
the U.S. House before being appointed vice president and then rising to the presidency in 1974 after Richard Nixon's resignation. From his office in Rancho Mirage, Calif., Ford comfortably discussed a range of gay issues. He said he supports federal legislation to outlaw anti-gay job discrimination: 'That is a step in the right direction. I have a longstanding record in favor of legislation to do away with discrimination.'"
Ford was only in office for 895 days, but lived longer than any U.S. president. His wife, Betty, issued a brief statement from their home in California: "My family joins me in sharing the difficult news that Gerald Ford, our beloved husband, father, grandfather and great grandfather has passed away at 93 years of age. His life was filled with love of God, his family and his country."
Former President Ford Dies at 93 [nyt]
Former President Gerald Ford dies [ap]