Rumors have forced another politician out of the closet. This time it's Steven Purcell, leader of Glasgow, Scotland's City Council.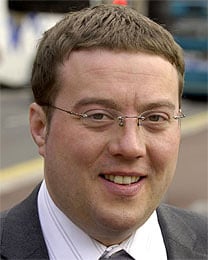 Said Purcell in an announcement Friday night: "Over the past couple of weeks the rumours surrounding my marriage have increasingly become a distraction to me. I wish to set out in public the facts surrounding the issue. For the last year my marriage has been in trouble and some months ago my wife and I separated. One of the issues we have been facing up to is the fact that I have realised I am gay. Over the last two to three weeks I have been telling close family, friends and colleagues. Now that they are aware of the situation, and that Katrina and I are clear they understand the issues, I want to dispel the rumours and get on with the job I am privileged to do as leader of the city council."
The 34-year-old politician was the youngest-ever leader elected to the Glasgow City Council at 32 and has been praised by Tony Blair for the promising social changes he has brought to the city. He's widely expected to advance beyond local politics in the future.
Purcell's wife said the announcement did not come as a surprise: "It did not come as a shock to me to find out Steven was gay and I now intend to offer him continued friendship and support and otherwise to get on with my own very busy life."