Republican leaders did not break any rules in handling information regarding former Representative Mark Foley's advances toward congressional pages, but they were negligent in protecting the pages, the House Ethics committee concluded in their investigation of congressional leaders.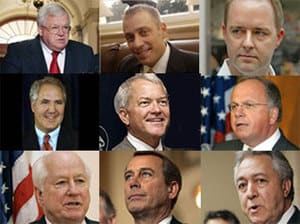 At a 2pm news conference, Rep. Doc Hastings (R-WA) said that the committee conducted more than 50 interviews and sworn depositions which resulted in 3,000 pages of transcribed testimony. Said Hastings: "Each of us on this investigative subcommittee recognizes that 20/20 hindsight is easy. And we recognize that doing the right thing in a sensitive situation can be difficult. But simply put, in situations such as the ones described in our report, doing the right thing is the only acceptable option. At those times each of us who is privileged to serve in the house, members, officers, and staff alike, has an affirmative obligation to speak up and seek appropriate action and then to follow up and make sure that that concern is properly addressed."
Rep. Howard Berman (D-CA) added: "The most important contribution this report makes, and it does it well, is to tell the story of what happened."
So not a single itty-bitty ethical rule was broken by Republican leaders covering the tracks of a sex predator for years?
Nothing was really said about the content of the actual report, which can be found here…
That was perhaps one of the most ridiculously uninformative press conferences I have ever seen.
A criminal investigation by Florida authorities into Mark Foley's activities is ongoing.
REACTIONS:
Melanie Sloan, the executive director of Citizens for Responsibility and Ethics in Washington: "House Ethics Committee has proven itself yet again to be entirely incapable of investigating wrongdoing by members of Congress…The fact that when faced with such egregious facts, the ethics committee did not find that so much as a single person acted in a manner that does not reflect creditably on the House just goes to show how utterly ineffectual the ethics committee is. This report is proof positive that the ethics committee is incapable of handling allegations of wrongdoing. To restore the public's confidence in the congressional ethics process, the new Congress should immediately move to create an Office of Public Integrity to handle complaints against members of Congress."
AmericaBlog: "Staff and Members actions in Foley scandal posed "a present danger to House pages" – therefore, no one should be disciplined" More….
Talking Points Memo: "According to the just-released House report, Rep. Jim Kolbe (R-AZ) was told back in 2001 that Foley had inquired after an ex-page's penis size. And when the scandal broke, he tried to keep the young guy quiet. And no ethics rules were broken?"
You may have missed…
Mark Foley Returns to Florida as Criminal Investigation Opens
Trandahl: Jim Kolbe (R-AZ) a "Problem Member" for Pages [tr]
Inebriated, Foley Attempted Access to Page Dorm: Kirk Fordham to Testify [tr]
Hastert, Kolbe Continue to Spin Foley Scandal: Republican Leaders Contradict Earlier Statements [tr]
Foley Scandal Continues to Stir Gay Republican Pot [tr]
Former Page Jim Kolbe Knew of Mark Foley's Emails in 2000 [tr]
Hastert Asked "To Intervene" on Foley Three Years Ago [tr]
Mark Foley's Indiscretions Began in '95, as did Cover-Up [tr]
Foley is Gay, Says Attorney; Was Molested by Clergyman as Teenager [tr]
Mark Foley Scandal Updates [tr]
Investigations Begin into Cover-up Surrounding Mark Foley: Republican Leaders Knew of Misdeeds for Five Years, Did Nothing [tr]
Political Page Turner: Rep. Mark Foley Resigns Seat Over Inappropriate Emails [tr]
Male Page and Rep Mark Foley in Troubling Email Exchange [tr]