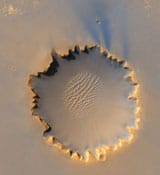 New comparisons of photographs taken in the past decade suggest that very recently water has flowed in liquid form on Mars, indicating the exciting possibility for life on that planet. The comparisons also showed evidence of many new craters indicating frequent hits by asteroids and meteors, which could present a hazard for future Mars missions.
NASA has announced plans to build a space station on the moon by 2024.
It will likely be built on the lunar south pole, which receives sun 75%
of the year, and will harvest local resources such as hydrogen and
oxygen to function. As part of the announcement of the space station
project, NASA said they're open to allowing other countries to
participate, and Russia has already indicated an interest.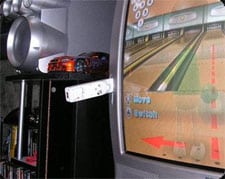 Nintendo Wii launched in Europe this week, reportedly moving 50,000 units in a mere 12 hours. With most game enthusiasts not willing to shell out the big bucks for Sony's Playstation 3, Wii is on its way to being the hit of the holiday season. But Nintendo quietly issued an advisory this week after reports of an unusual design flaw of the game console: users have apparently been a bit too enthusiastic about the new style of playing games that involves swinging and twirling the wireless remotes — they have been flinging out of users hands and damaging expensive electronic equipment such as flatscreen televisions. Nintendo warns that players should always use the wrist strap when playing. The website Wiihaveaproblem.com has taken to cataloguing the electronic casualties at the hands of the unbound Wii remotes.
Athletic uniforms are due for an upgrade according to two Australian designers, who recently debuted basketball jerseys with lighted displays that show statistical information about the wearer. The technology, called TeamAware, works by wirelessly transmitting data to the jerseys in real-time.

Sirius XM or XM Sirius? Sirus satellite radio hinted this week at a possible merger with their major competitor, XM radio, stating that the combination of their resources would benefit consumers and investors. Said stock analyst Frederick W. Moran, "Both Sirius and XM could prosper much more easily if they took up the fight against terrestrial radio operators, rather than against each other."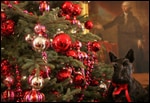 Finally, and once again, it's time for Barney's Holiday Extravaganza, which was just posted to the White House website. The video follows Barney, the Bush family's swishy little scottish terrier as he puts together a holiday special and recruits familiar faces such as Tony Snow, Laura B, and even Dolly Parton. I suppose the Scissor Sisters weren't available?
Daniel Williford is our TowleTech correspondent.

You can visit him at his blog, Until Today…