The origin of the red Prada shoes is just one closely guarded secret surrounding the life of Pope Benedict XVI.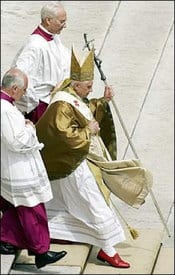 Others, having to do with Italians and their relationship with the church, their families, and the closet are addressed in an article by Michael Joseph Gross which appears in the new issue of Out. Gross takes a look at Rome's past and present gay history and its relationship with that Catholic city-within-a-city, the Vatican, described to him by an American expat as "one of the most homophobic institutions in the world and probably the most gay institution in the world, outside of gay nightclubs."
Here's a brief but amusing excerpt. One of the folks Gross interviewed for the piece was Italy's most popular gay TV personality, Fabio Canino (not to be confused with Fabio Cannavaro), who described a colorful lunch date he'd had at the Vatican:
"Fabio Canino says he received a mysterious invitation a few years ago to lunch at the Vatican with a cardinal. 'I walked in,' he remembers, 'and I thought the person in front of me was a drag queen, not a cardinal.' He flings his arms up in imitation and cries out, lisping, 'Hel-lo, sweetie!'
The prelate, he says, eagerly dished his Vatican colleagues, referring to one black cardinal as 'Naomi' (after Naomi Campbell). As Canino tells the story, he called the cardinal a hypocrite and asked how, as a gay man, he could serve this homophobic institution. The cardinal looked at him across the lavish table where they sat and said, 'I have everything here.'

Before Canino left, the cardinal—like a politician, or a parent—told him to get in touch if he ever needed help. Some time later, when Canino produced a play in Rome, the production was stuck without a rehearsal space. Canino says he called the cardinal in desperation and was immediately granted the use of a room in the Vatican. He says the cardinal also arranged for the Vatican printing office to produce, for free, the souvenir script that was sold at the play to raise money for a local AIDS foundation.

The title of the play? Making Porn."
And it isn't just those in the lower ranks rumored to be gay; whispered about by gay Romans almost as much as the red shoes is Pope Benedict's relationship with his "personal secretary" Monsignor Georg Gänswein. After reading the piece it doesn't surprise me at all that the Pope hired Italian "gay icon" Serra Yilmaz to act as his translator on his recent trip to Turkey. Religious icons and gay icons seem to mix in Rome fairly fluidly.
When in Rome [out]