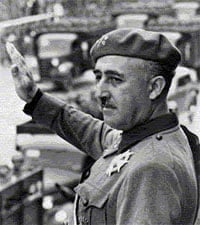 Victims of General Francisco Franco's dictatorship persecuted for being gay may receive payments for their suffering from Spain:
"During Franco's homophobic dictatorship, gays were jailed or locked up in sinister mental institutions known as 'correction camps'. With echoes of the Nazi atrocities against gays, they were given electric shocks in the belief that this would rid them of their homosexual urges. Inmates were forced to watch pornographic films featuring women in an effort to show them a sex life that was deemed 'natural' by the conservative authorities. As part of their nationalist, Catholic ideals, the Franco regime and its Falangist supporters considered homosexuals a threat to the 'macho' Spanish male. General Queipo del Llano, who broadcast to the nation, once said: 'Any effeminate or introvert who insults the movement will be killed like a dog.'"
Victims may be granted a pension of €800 (£540) a month, plus a one-off €12,000 payment. The amends may come in as little as two months according to Spanish Justice Minister Juan Fernando López Aguilar.
You may have missed…
Two Air Force Privates Wed in Seville, Spain [tr]