That's what some are saying. Although this piece from the International Herald Tribune is full of hints and speculation (with few specifics) about what Apple might present tomorrow at its annual Macworld conference, the prospects for an iPod/computer/phone hybrid get more real: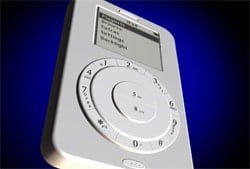 "Industry executives and competitors say that Apple has developed the first of the next generation of devices that are closer to personal computers in pocket form, meaning that they will easily handle music, entertainment, productivity tasks and communications on cellular and other wireless networks…In the past, Jobs has cited the carriers' control of mobile phones in the United States as a reason he had not introduced an Apple phone. Now that has apparently changed, and Apple's business strategy in offering an Apple phone will potentially be as intriguing as its industrial design. Jobs has been rumored to have entered into an alliance with Cingular. That would suggest he has patched up a reported split that resulted in 2005 when Apple introduced its iPod nano on the same day that Cingular and Motorola introduced the Rokr. Whatever his business strategy, Jobs is certain to have an impact. Recently, he told two associates, who asked not to be identified to avoid damaging their relationship with him, that he was more excited about his current project than he was about the Macintosh."
Others are noting that Steve Jobs has invited his close buddies to the keynote presentation tomorrow, which may mean big news…
Photo here for illustration only. No legitimate concept designs for the rumored device have been released.