A gay Australian cowboy who became well known when he participated in that country's version of the TV show Big Brother, is headed back to reality TV in order to save his farm in the northern territory of Queensland, which has suffered due to a prolonged drought.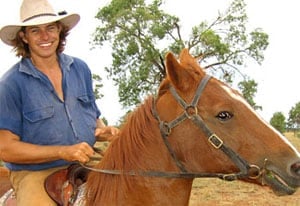 David Graham told The Daily Telegraph he thought he had been relegated to "last season's TV trash" when he got the call asking him to participate in a new season of Dancing with the Stars. Said Graham: "Being on the farm is where I want to be – it is paradise up there, but when you have starving sheep you have got to do something. I woke up a couple of days ago and looked out the window and thought 'What the hell am I going to do?' but by the end of the day I had got the call and things had totally turned around. It is a godsend. It is almost as good as rain…To be asked to do a show like this is nuts, but to find out you get paid for it and I am going to be able to buy some feed for my stock – I still have not got over it."
Graham outed himself while participating on Big Brother after a female contestant expressed interest in him. He also revealed that he had been the victim of a brutal gay bashing by a gang of men outside a Brisbane nightclub earlier the same year.