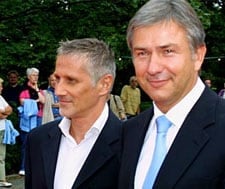 Gay Berlin Mayor Klaus Wowereit is being hailed for his quick action on New Year's Eve after spotting a fire on the roof of his apartment building and quickly running from door to door to warn its residents.
Said neighbour Gerd Luetjen: "We were sitting there eating our chocolate fondue when he rang the bell and shouted 'The building is on fire!' I tried to warn other neighbours but Wowereit had already been everywhere."
The fire was extinguished, and Wowereit, who had been celebrating with his partner Joern Kubicki, treated his neighbors to Champagne in a nearby restaurant. There was no word on whether it was served in women's shoes.