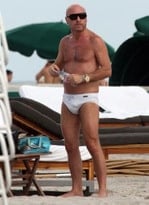 Domenico Dolce, sans design partner Stefano Gabbana, was also recently spotted suntanning on South Beach, and Page Six reports he was busy at the clubs as well:
"Domenico Dolce does not pick up men – he has them selected and brought to him. The venerable designer – one half of the Dolce & Gabbana clothing empire – was at Miami hot spot Snatch the other night with several friends and one special employee whose assignment was 'to get hot guys in the club to go to his table,' giggled our spy. 'Domenico would point at a guy, and his employee would go bring the man over. It was extremely effective.'"
Well, at least he's not busy bashing gay parents.
You may have missed…
Stefano Gabbana: Same-Sex Parents Unfit to Raise Children [tr]
Chad White and Clint Mauro: Window Dressing [tr]