Its "Best Drama" award may have been entirely appropriate.
Whatever the truth is about what happened on the Grey's Anatomy set last October, these Access Hollywood interviews with Katherine Heigl and Isaiah Washington reveal that there's still plenty of discomfort with the situation on that production.
Following Washington's Golden Globe red carpet statements I posted about earlier, he was asked about the validity of the incident involving T.R. Knight in the GG press room.
Washington responded: "No, I did not call T.R. a faggot. Never happened, never happened."
Later, visibly disturbed Grey's co-star Katherine Heigl was asked about his response by Access Hollywood's Shaun Robinson. Said Heigl: "I am not okay with it."
Heigl then added: "I'm going to be really honest right now, he needs to just not speak in public. Period. I'm sorry, that did not need to be said, I'm not okay with it…I have no idea what it was, I just find it hurtful…I just feel like this is something that should be very much in house we need to deal with and it's among us and the cast and crew and among Shonda [Rimes, show creator] and the producers. I don't think [Washington] means it the way he comes off…But, T.R. is my best friend. I will throw down for that kid. I will beat you up. I will use every ounce of energy I have to take you down if you hurt his feelings…I don't see how [T.R.] could not be [hurt] under those circumstances. Drawing attention to it and saying the word again is just unnecessary."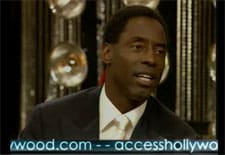 Washington remains vehement that the on-set incident was completely fabricated by the press and goes on to defend himself to Billy Bush and Nancy O'Dell:
"There is no way I could do anything so vile, and so horrible, not only to a castmate, but to a fellow human being. It's the truth. It did not happen. I was going to hire some other great shiny publicist, but you know what, God laid it on my heart to say it because it was so close. The reports were all wrong. It did not happen. I'm very disappointed that the New York Post actually wrote legitimately about something that was put in a tabloid about some angry person to get some validity to this, and then it just rippled."
Washington also insists that he and actor Patrick Dempsey are the best of friends: "I kiss Patrick Dempsey. We sing 'Ebony and Ivory' everyday since the so-called incident and it hasn't come up. We purposely sing 'Ebony and Ivory' every night since October 9 and nobody has written about it."
Katherine Heigl Lashes Out At Co-Star Over Homophobic Slur [access hollywood interview]