Powerful New York law firm Sullivan & Cromwell has been hit by a lawsuit from Aaron Charney, who works there as an associate, alleging harassment, discrimination, and retaliation by partners and employees at the firm, according to legal tabloid Above the Law and The Daily Transom.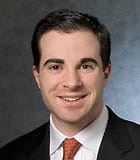 According to the Transom, who spoke with Charney, "he is still employed at the firm, and is representing himself."
The documents filed today allege that one of the partners in the firm threw a document at Charney's feet and said, "Bend over and pick it up — I'm sure you like that." There are also accusations that various partners at the firm conspired to have Charney thrown out because he was "carrying on an 'unnatural' homosexual relationship with another S&C associate", and that the firm discriminates against Canadians.
The full complaint is available here.
Bet it's not too comfortable running into the partners around the office water cooler.
UPDATE: The NYT published a story today regarding the lawsuit and they have more details of the complaints and a few responses from partners.
Charney v. Sullivan & Cromwell [above the law]
Gay Discrimination Suit Filed Against White-Shoe Law Firm [daily transom]