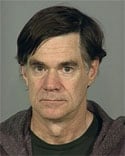 Attorneys for director Gus van Sant, who was arrested just before Christmas in Portland on a charge of driving under the influence, have pleaded "not guilty" in a Multnomah County court.
Portland Police Bureau spokesman Sgt. Brian Schmautz testified, according to the AP: "Van Sant, 54, was arrested the night of Dec. 21 near the city center. Police said he registered a blood-alcohol level of 0.19 percent, more than double Oregon's limit of 0.08 percent…An officer saw that Van Sant's headlights weren't on. Van Sant had bloodshot eyes and slurred speech, smelled of alcohol and failed sobriety tests."
Van Sant was ordered to an alcohol diversion hearing set for February 9th, which could eventually expunge the charges from his record.
You may have missed…
Gus Van Sant Arrested for DUI in Portland [tr]
The Anti-Breakfast Club [tr]