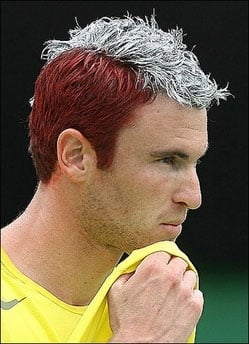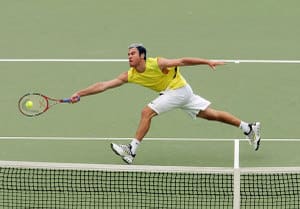 American Zack Fleishman paraded some patriotic plumage at the Australian Open, dying his hair red, white, and blue. The stunt reportedly didn't fly well with locals who were there to cheer on his Australian opponent Wayne Arthurs.
They mocked him for wearing French colors, said he looked like a "malodorous mammal", and one columnist went so far as labeling him a California "fruitcake" – hmm).
Said Fleishman: "I fully expected it. No hard feelings. It's kind of a ridiculous thing to do, and it's probably never been seen before. There were little jabs here and there. I have a history of doing it. I did it a lot in the juniors playing in big tournaments for the Sunshine Cup, which is like the junior Davis Cup. I feel like it spices it up a little bit. I like to have fun on the court as much as possible. I feel like tennis is too much all-white clothing. The crowd get to put on the wigs and yell, do that kind of stuff. So I figure the players can have fun every once in a while as well."
Fleishman lost to Arthurs, who at 35 is the oldest active player on the ATP Tour.
You may have missed…
Andy Roddick finds his Mojo in 2007 [tr]
Sportrait: Tom Brady [tr]
Alleged Self-Sportrait: Jeff Reed [tr]
Sportrait: Dmitriy Karpov [tr]