Gay rights activists and some members of Parliament in Italy have expressed outrage after Flavio Insinna, the host of Affari Tuoi (that country's version of the popular game show Deal or No Deal), revealed that when he was auditioning to be the show's host, RAI (the show's Italian public service broadcaster) asked him whether or not he is gay.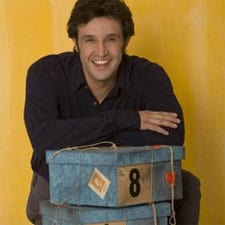 MP Franco Grillini, who also heads the gay rights group Arcigay, told Variety: "The issue of discrimination against homosexuals at RAI is a pressing one that needs to be resolved at all levels, from equal opportunity in the workplace to equal time in the news."
While RAI is under fire for Insinna's alleged job interview, their programming slate reveals the network is unafraid to confront gay issues: "Last week a brouhaha broke out in parliament over its upcoming skein 'Un Medico in famiglia' (A Doctor in the Family), which will feature two doctors living together as a couple, the first time a gay couple is depicted on the pubcaster."
The broadcast has inspired conservatives in the country, including Benito Mussolini's MP grandaughter Alessandra, and Silvio Berlusconi's party, to demand that the program be pulled.
Italian parliament is in the midst of a vigorous debate over gay marriage and civil unions.
RAI provokes gay rights protest [variety]