Towleroad has received a partial transcript of T.R. Knight's appearance on today's Ellen DeGeneres Show. Knight reportedly confirms details of the October on-set incident between Grey's Anatomy co-stars Patrick Dempsey and Isaiah Washington. Knight claims that Washington (who denies the feud ever took place, much less the slur) did, indeed, use the F-word: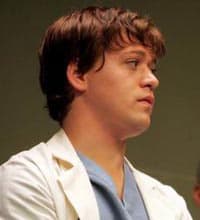 "He referred to me as a faggot…Everyone heard it."
Knight said it became important for him to make a statement after details of the feud blew up in the press, and that he looked to Ellen's and other celebrities' coming out experiences for strength.
"I was under no delusions.. my friends on the set knew. We talked about it.. they knew. I was not under any delusion that they didn't know but I think publicly it's not my thing to like call up People Magazine and be like, hey you want to know something about me? You know, I think when it happened (the incident) I've never been called it, and you know you go through things in life and you lose friends when you go through the process — whatever your journey is — but I've never been called that to my face. So, I think when that happened something shifted and it became bigger, you know what I mean, than myself. I look to people like you (Ellen) …to your bravery, and others people's bravery, and you're just really grateful for that because I could've just let it slide and not said anything but it became important."
When Ellen asked him about Washington's denial that he called Knight a "faggot" after the Golden Globes, Knight said: "Yeah, he denied that he said it (faggot)..I don't know what to say…really, about that."
Knight also thanked Ellen for her bravery in deciding to come out so many years ago: "I was recently watching some of your interviews from that time and it was just .. It was so..I'm losing my words and I apologize it's just very moving and it just meant so much."
Following the Golden Globes on Monday, Knight's co-star Katheringe Heigl defended Knight and expressed her disapproval at Washington's behavior, which he denies ever happened.
You may have missed…
Grey's Anatomy's Katherine Heigl Scolds Washington for Slur [tr]
Isaiah Washington Still Obsessed with TR Knight [tr]
Grey's Anatomy Actor T.R. Knight: "I'm Gay" [tr]
Tab: Isaiah Washington Used Gay Slur in Grey's Anatomy Brawl [tr]