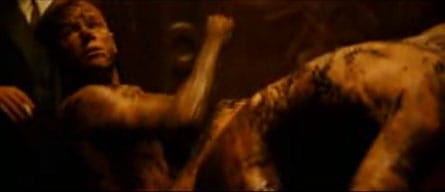 Earlier this week I posted a few Matt Damon mud wrestling screencaps from the new Robert DeNiro film about the birth of the CIA, The Good Shepherd. Here's the actual clip, which also features Matt Damon in his first simulated watersports scene. I don't expect it will be up for long.
"Getting pissed on is personal, Mr. Russell, I take it very personally."
See the earlier post for a bit of background on the clip.
You may have missed…
In the Mud with Matt Damon [tr]
It's All About the Uniform [tr]
Matt Damon Gets Initiated [tr]