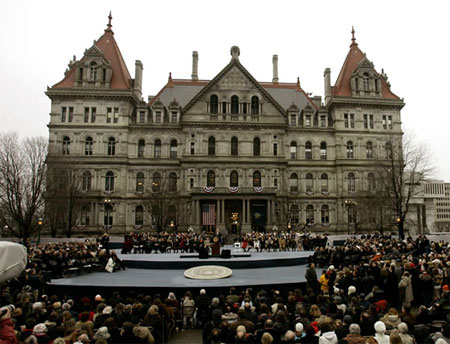 The New York Sun takes a fresh look at recently sworn in New York Governor Eliot Spitzer's gay marriage promises, noting that gay marriage, which he has been vocal and specific about in the past, was glossed over in his hour-long "State of the State" address on Wednesday.
The Sun reports: "After Mr. Spitzer finished his speech, environmentalists, medical researchers, unions, and education activists released statements applauding the governor for taking up their issues. Gay-rights groups were noticeably missing from the chorus of cheers. In a press conference afterward, a reporter asked Mr. Spitzer if his remarks about the chapters yet to be written was a reference to gay marriage. Mr. Spitzer responded: 'It was a reference to a range of areas where the civil rights movement has not yet been completed, and I think that subsumes all of them.'"
Certainly a more general statement than those he has made in the past.
In his most recent pledge, Spitzer told a roomful of guests at the October Empire State Pride Agenda dinner that "We will not ask whether this proposition of legalizing same-sex marriage is popular or unpopular; we will not ask if it's hard or easy; we will simply ask if it's right or wrong. I think we know in this room what the answer to that question is."
This statement was a follow-up to a declaration he made in July against his Democratic opponent Thomas Suozzi, in which the Gov-to-be promised, "I have said with great clarity that I think that same-sex marriage should be legal. I will propose a bill to permit that to be the case here in the State of New York. And I will act on that if I'm fortunate enough to be elected governor."
So why the lack of specifics? Openly gay State Senator Thomas Duane notes that Spitzer may simply be exercising caution and learning from the past: "When President Clinton came in he got very specific about his plans … and it became a distraction for some of the other things he wanted to accomplish. And he didn't get a win on gays in the military. It was probably a lesson learned for Eliot Spitzer."
Spitzer's communications director Darren Dopp said that at the moment it's a back burner issue after ethics and economics, but it's definitely still on the agenda: "The governor made a commitment to advancing it this year, and he will do so…We have to prioritize and that's how we prioritized."
In the meantime, just continue to crush…
Spitzer: Gay Rites Ahead [the ny sun]
You may have missed…
Eliot Spitzer: "We Will Make [Gay Marriage] Law in New York" [tr]
New York Legislators Pressed for Positions on Gay Marriage [tr]