In a sentence he said "[does] not suit the Department of Justice and the victims," U.S. Magistrate Judge James C. Sumner ordered one former Mississippi Narcotics Agent a year of home confinement and another one month in prison and 11 months of home confinement for the 2004 assault of two gay men.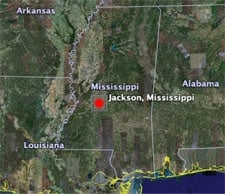 "James Buitt, then 42, and Michael Mathis, then 47, both of Bogue Chitto filed a complaint Sept. 16, 2004, alleging abuse by MBN agents on Aug. 29, 2004, at a parking lot near Jack & Jill's bar in Jackson because of their sexual orientation. Buitt said he was sent to the University of Mississippi Medical Center with a broken arm and nose, and Mathis said his hand was broken. Buitt said Tuesday he was out of work for nine months because of surgery on his arm and suffered numerous other repercussions because of the actions by the agents."
Buitt and Mathis were defended by Assistant U.S. Attorney Paige Fitzgerald, who had recommended a year in prison for each of the agents.
On the evening of the attack, the agents attempted to coerce their victims into not filing a complaint, according to 365gay.com: "Forman and Reynolds followed the victims to the hospital where they confronted them, and tried to get them to agree that they would not file a complaint against them if they would not charge Buitt with driving under the influence of alcohol. Buitt ordered the agents to leave, and accordingly, Reynolds and Forman filed a DUI charge against him. Forman later testified falsely against the Buitt in Hinds County Justice Court in relation to the DUI charge. The offenses against Buitt were later dismissed in court. Following that the federal civil rights charges were laid by the US Attorney's department."
Following the sentencing, Forman and Reynolds "received congratulatory hugs from [a] crowded courtroom of law enforcement supporters" according to the Clarion Ledger.