Jaime and Javier Aguirre, two of ten men who brutally murdered Paul Broussard outside a Houston-area nightclub in 1991, are due to be released on parole in days, and the victim's mother says she fears for her family. She has asked authorities for current photos of the inmates.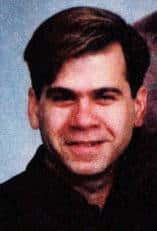 The "Woodlands 10" as the gang came to be known, murdered Broussard after being turned away from a Montrose nightclub. Said Broussard's mother Nancy Rodriguez: "You should see the autopsy report. They just didn't stab my son, they gutted him."
Gay prison activist Ray Hill (there's a profile on Hill here. Scroll down), a man the Houston Chronicle says once "agitated for the killers' arrests and convictions", has since become friends with them, says they have changed in prison, are not homophobic, and is lobbying against their scheduled deportation to Mexico, where they are from.
Said Hill: "What we have is a bunch of teenagers, drunk and stoned — chemicals played a major role in this — who came to Houston from The Woodlands…The whole theory of homophobic murder was a convenient way to get media attention. I created that illusion myself, but it probably was not true. … I know all of the boys, though, and none of them are homophobic."
Probably not much comfort to a mother who lost her son. A third member of the Woodlands 10, Leandro Ramirez, is set for release in March.