A guide to the 50 best webcams in New York City. (via curbed)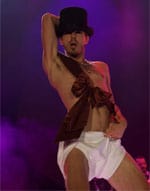 Jake Shears in Baby New Year diaper dance.

14-year-old boy is youngest ever to cross Atlantic solo, from Gibraltar to Antigua. Mom: "I did get quite scared when I found out he had to tie a rope around his waist and dive into the water to fix something, and when he was talking about sharks. But you cannot expect your kids not to go out. You don't want them staying at home, fixed to the computer. They need to be out there, fulfilling their ambitions, otherwise life will pass them by. I just wish more kids had the opportunity to do these things."

Critics aren't digging Courtney Cox's Dirt. For the record, neither did I.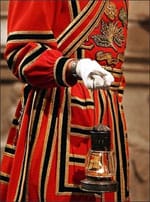 After 522 years, Tower of London to get first female Beefeater.

Provincetown to create its own barter currency: Dune Doubloons. "The Unitarian Universalist Meeting House is behind the idea — slated to be rolled out on Jan. 15 — to create a local, legal barter currency that residents can use to exchange skills and services. UU Meeting House Rev. Alison Hyder said most people living in town have a skill, resource or interest that could be of use to someone else. By using the paper barter currency, called 'dune doubloons,' residents can pay for a pie or putting up storm windows or guitar lessons without using real cash. 'Affordability is obviously one of the most pressing problems people face here,' Hyder said. 'This will help them stay afloat while saving 'real' money for other bills.'

Have you ever looked up gluttonous pig in the dictionary?