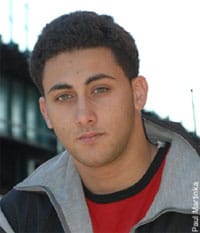 You know what they say about bullies who need to express their masculinity by taking it out on gays. Well, David Eisler of Staten Island, New York may be a textbook case.
The New York Post reports that last weekend he cut a line at McDonald's at the Staten Island Mall to demand a McFlurry, and when he was told they were out of ice cream he began unleashing a tirade of slurs at employee Melvin Miles.
Said Eisler: "I am homophobic! I hate faggots! McDonald's shouldn't hire faggots!"
The young bigot returned two hours later to cause more trouble: "I don't want a cheeseburger from some faggot. I don't know why McDonald's would hire a f- – -ing faggot. Who wants a f- – – ing gay guy touching their food?"
Like a big man, Eisler allegedly refused to leave unless Miles fought him. Eisler later threatened the police, who reportedly charged him with "hate crimes, aggravated harassment and attempted assault" and released him without bail.
Anti-Gay Mac Attack at Mall [ny post] (via gawker)