Following last year's Stephen Colbert appearance which reverberated across the blogophere at light speed, the White House wants a Bush-friendlier dinner this year. Good luck.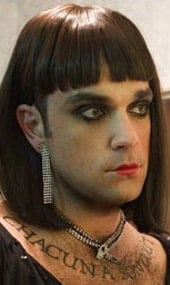 Robbie Williams: gonna dress you up in his love.

Brangelina's next mission: save New Orleans.

Kathy Griffin and Tim Gunn will guest star in coming weeks on Ugly Betty. Executive Producer Silvio Horta: "A lot of us watch[Project Runway], we talk about it a lot in the [writers] room. We always thought when [our] Fashion Week [episode] comes along we'd love to have him, whether as a fashion TV reporter or just have him there as part of the mix."

Closeted gay footballers speak out from behind the closet door: "But what am I to do? Coming out would mean death."

Sarah Jessica Parker: the neighborhood nemesis.

The 2007 Brit Award nominations are out. Best British album nominees: Amy Winehouse, Snow Patrol, Muse, Arctic Monkeys, and Lily Allen.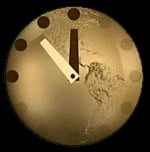 For first time, Doomsday Clock moves closer to midnight over threats from global warming.

Chris Rovzar makes an illuminating trip to Spain to see what's behind the legalization of gay marriage there: "I met with [Pedro Zerolo, the secretary of Social Movements and Relations With NGOs, a ministry post] in his expansive office in the party headquarters in Madrid, and we chatted for well over an hour. He was full of political platitudes about 'worlds of the rainbow' and how 'we won a victory for humanity.' Whenever I had conversations like these, I couldn't help but think that in the end it wasn't the activists that made the law possible in Spain—it was the straight people who listened, who allowed themselves to be educated, and who ignored religious and social prejudices. With a large voting majority, passing the law was easy."

South African nuts charge AIDS worker Zackie Achmat with genocide. They also claim vitamins will cure the disease.