Believe it when you see it, but MSNBC's Jeanette Walls is reporting that T.R. Knight may be leaving Grey's Anatomy.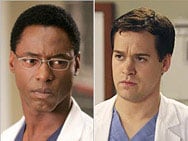 According to Walls' source, Knight "is so upset about the situation and so disgusted by how it was all handled" that he's ready to go. "He was told not to say anything about the whole incident. He kept his word, but then the whole thing blew up again at the Golden Globes, and when he was asked about it, he basically called Isaiah a liar. He feels that the atmosphere there is so toxic and unhealthy. I suppose things could change and we would stay, but for now, he's planning to leave the show."
After refusing to comment on the rumor, Knight's rep called Walls to say the story was "completely, one thousand percent false."
What a shame it would be to see Knight leave the show when it's Washington who should be shown the door.
Below, actress Chandra Wilson and the cast of Grey's note Washington's absence as they accept trophies over the weekend at the Screen Actors Guild awards.
You may have missed…
Isaiah Washington Checks into Treatment Center [tr]
Isaiah Washington Meets GLSEN and GLAAD [tr]