"As soon as the visitor from Denver walked through the church doors Sunday morning, heads turned. Word spread quickly: He was here."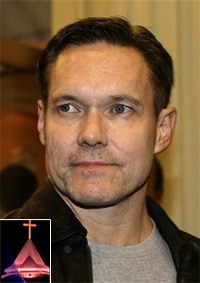 As a fact-finding mission for the book he is writing about his experiences with Ted Haggard, gay escort Mike Jones attended a service at Haggard's New Life Church in Colorado Springs, where he reports he was greeted warmly and offered blessings from the parishioners.
Said Jones, who did not tell media in advance about his visit for fear it would taint the impromptu visit: "I had read a lot about the church, but there's nothing like seeing it for yourself. It wasn't to rub anyone's face in it by any means. I was wanting to get some perspective, to see where they are coming from, what the magnet is…There seems to be something missing, some realism, in my opinion, because it's so vast, like some kind of self-contained city"
Jones attended with a New York- based theater troupe called the civilians who were in the area "researching a project on evangelicals".
Jones' arrival proved emotional for some: "A couple of ladies cried when they were touching me. I was thanked for exposing the church, for helping Ted Haggard. A couple of them said they hoped I get God into my life. And they all said 'God bless you,' every one of them."
Associate pastor Rob Brendle told Jones that he felt God had used the gay escort as a tool to help the church: "I told Mike, 'I don't want to impose my religious beliefs on you, but I believe God used you to correct us, and I appreciate that.' The church's response to him was overwhelmingly warm. One of the wonderful and enduring truths of Christianity is to love people the world sets up to be your enemies."
New Life Members Welcome Jones [denver post]
Haggard Accuser Attends New Life Service [krdo denver]
Background…
Evangelical Leader Ted Haggard Steps Down After Gay Escort Claims They Had a Sexual Relationship for Three Years [tr]
Ted Haggard Voicemails Analyzed; Pastor Admits to Indiscretions [tr]
Mike Jones Fails Lie Detector Test on Ted Haggard But Test Administrator Doubts Test's Accuracy [tr]
Ted Haggard: Bought Meth, Didn't Use It; Received Massage, No Sex [tr]
Ted Haggard Letter: "I am Guilty…a Deceiver and a Liar" [tr]