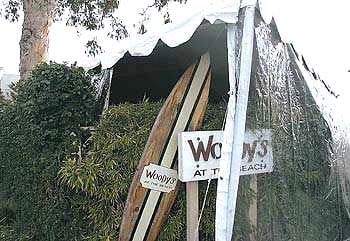 Woody's at the Beach, a decade-old Laguna Beach restaurant that was the most recent in a string of gay-owned businesses to occupy a prime lot on that town's Coast Highway, has been sold and will close on February 3rd.
Woody's was a cornerstone in the gay nightlife of Laguna Beach, just down the street from the Boom Boom Room nightclub, which was barely saved by a group of community activists last year when they convinced the owner of the lease on the property to allow them to run it for another year. When the lease ends on the Boom Boom room this September, its future is uncertain as well.
Joel Herzer, the owner of Woody's, says the restaurant was sold in order to focus on two other restaurants in the Palm Springs area.
Can Laguna Beach's reputation as a gay destination, survive the shuttering of its cornerstone gay clubs and businesses. Fred Karger, who led the movement to save the Boom, thinks so. He tells the Coastline Pilot: There is a misconception that there are no gay people left here. We have a tremendous gay population in Orange County. The population has shifted, and many are moving to Aliso Viejo and Laguna Hills, because they are no longer unwelcome."
Still, whether or not Laguna can retain its appeal nationally remains to be seen. Karger says the new owners of Woody's, who will operate a Mexican restaurant in its stead, will "cater to the community."
Woody's sold to Mexican dining chain [coastline pilot] (via Curbed L.A.)
you may have missed…
Laguna Beach Boom Boom Room Saved [tr]
NYT: The New or Not So New Wave of Gay Destinations [tr]