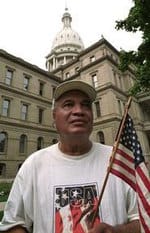 Sometimes it takes a horrific tragedy, in this case the cold-blooded murder of Detroit senior Andrew Anthos, to move people to action.
The Detroit Free Press reports that Senator Hansen Clarke (D-Detroit) says he'll re-introduce legislation to expand Michigan's hate crime statues to include sexual orientation. Similar legislation, of which Clarke was a co-sponsor, failed to pass last year. Hopefullly Anthos' murder will inspire people to see that it needs to happen.
Said Clarke: "I believe Mr. Anthos death will be a watershed. It's going to be successful."
Clarke also vowed to give Anthos what he campaigned for for nearly 20 years — the lighting of the Michigan statehouse dome in red, white, and blue. Anthos cousin, Athena Fedenis, said it was his dying wish:
"One of the last things he said to me was 'Promise me my dearest cousin,' to continue the fight."
Neal Rubin, of the Detroit News, has written a column about Anthos' attempts over the years to get his message heard.
Sadly, it took a metal pipe, a crushed spine, and a man's soul for people to finally listen.
Background
Funeral Set for Slain Gay Detroit Senior Andrew Anthos [tr]
Gay Senior Citizen Brutally Beaten in Detroit Hate Attack Dies [tr]
72-Year-Old Detroit Man Paralyzed After Brutal Anti-Gay Attack [tr]